---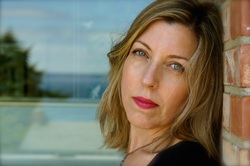 FULL BIO:
Kelli Russell Agodon is an award-winning poet, writer, and editor from the Pacific Northwest.
Born and raised in Seattle, Kelli was educated at the University of Washington and Pacific Lutheran University's Rainier Writing Workshop where she received her Master of Fine Arts in creative writing.
Her most recent collection of poems is
Hourglass Museum
(White Pine Press, 2014), which was short-listed for the Julie Suk Poetry Prize honoring the best book of poems published by a small press. She is also the author of
The Daily Poet: Day-By-Day Prompts for Your Writing Practice
, which she coauthored with Martha Silano.
Her second collection,
Letters from the Emily Dickinson Room
was chosen by Pulitzer Prize winner Carl Dennis for the White Pine Press Book Prize, and it was named as Winner of ForeWord Magazine's Book of the Year in Poetry as well as a Finalist for the Washington State Book Prize. Her other books include
Small Knots, Geography,
and
Fire On Her Tongue: An Anthology of Contemporary Women's Poetry
.
Her work has appeared in
The Atlantic, O, The Oprah Magazine, Prairie Schooner, New England Review
, as well as on "The Writer's Almanac" with Garrison Keillor's and in
Keillor's Good Poems for Hard Times
anthology.
Kelli was the editor of Seattle's 30-year-old print journal,
Crab Creek Review
for the last six years. She recently established
The Russell Prize
through Two Sylvias Press to support poets in the early stages of their career and volunteers with senior citizens hosting monthly writing workshops on both poetry and memoir at Northaven, a nonprofit resident community for senior living.
Kelli is the cofounder of Two Sylvias Press where she works as an editor as well as being the Co-Director of Poets on the Coast: A Retreat for Women Poets, and a member of the Seattle7 Writers, a nonprofit group that raises awareness and money for literacy organizations in the Pacific Northwest.
She is an avid paddleboarder, mountain biker, and hiker who has a fondness for desserts, typewriters, and fedoras. She lives in a sleepy seaside town a ferry ride away from Seattle.
50 Word Bio
---
---