Praise for Letters from the Emily Dickinson Room: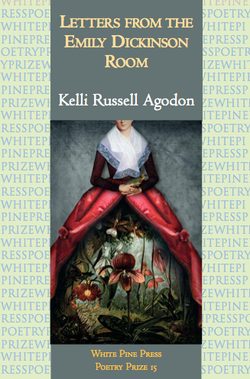 "These are poems of remarkable liveliness. In their wide-ranging wit and passion for language, their surprising juxtapositions of the ordinary and the exalted, and their willingness to foreground doubt in a search for meaning, they show a fellowship with the work of Dickinson that is deep without ever being solemn. Here is a fresh, distinctive voice that is consistently engaging and surprising."
—Carl Dennis
In
Letters from the Emily Dickinson Room
, a most unexpected feat of poetic legerdemain, Kelli Russell Agodon composes on the high-wire of misprision and semantic accidents. She is an aerialist hovering above language without a net, and is possibly the wittiest anagramist in recent memory (
pray for poets
becomes the
story of paper).
All I can say is: reader, go with her
shopping for coffins.
Go with her as she
nails light to paper.
The rewards ar
_
e many.
—Carolyn Forché
Kelli Russell Agodon's book, Letters from the Emily Dickinson Room, is a bright, funny, touching meditation on loss, love, and the power of words. Her genius is in the interweaving of God and Vodka, bees and bras, astronomy and astrology, quotes from Einstein and Dickinson, a world in which gossip rags in checkout lines and Neruda hum in the writer's mind with equal intensity.
—Jeannine Hall Gailey
---