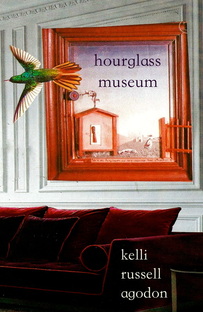 In Kelli Russell Agodon's third collection of poems,
Hourglass Museum
, the yearning to create is what moves us forward. Through car rides with Andy Warhol, temporary tattoos of Frida Kahlo, and long dinners with Joseph Cornell, we walk hand-in-hand through a paper museum where what inspires intersects with our regular lives.
Hourglass Museum
offers a dazzling selection of poems inspired by artwork and artists that explores personal relationships and the struggle (emotionally, financially, and spiritually) of living a creative life. Agodon understands the importance of how art influences our lives and how we balance delicately realizing that we only have so much time to live and create.
Hourglass Museum
is a meditation in beauty, tenderness, and knowledge reaching far beyond most poetry that's being written today.
Praise for Hourglass Museum
---
---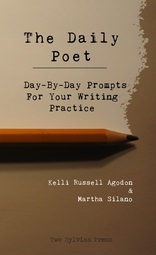 By Kelli Russell Agodon & Martha Silano

Write a poem every day for a year.

The Daily Poet: Day-By-Day Prompts For Your Writing Practice offers a unique writing prompt for every day of the year. Created by poets for poets, this calendar of exercises offers inspiration and a place to begin. Whether you are a novice or well-established author, The Daily Poet is an essential resource for poets, teachers, professors, or anyone who wants to jumpstart their writing practice. The Daily Poet is portable, coffeeshop tested, and offers quick warm-ups for any writing group or classroom. An excellent guide for students, The Daily Poet is also a handy reference for poets looking for fresh ideas to share in their writing workshops.
---
---















WINNER of the ForeWord Book of the Year Prize in Poetry

Finalist for the Washington State Book Awards
____________________


In her second collection of poems, award-winning poet Kelli Russell Agodon creates a delicate balance between the seriousness of life and a brilliant sense of playfulness. A book about anxiety, spirituality, and the various ways we correspond including letters, postcards, love notes, conversation, song, and prayer.





---

Edited by Kelli Russell Agodon & Annette Spaulding-Convy

Over 460 pages of the best women poets writing today and featuring over seventy poets such as Jane Hirshfield, Aimee Nezhukumatathil, A.E. Stallings, Kim Addonizio, Dorianne Laux, Natasha Saje', Kate Greenstreet, Susan Rich, Martha Silano, Lola Haskins, and many more. . .

Fire On Her Tongue showcases superbly crafted poems exploring the contemporary woman's experience.

Find out more about Fire On Her Tongue at Two Sylvias Press.

---

















Small Knots is a tender and terrifying collection of poems that maps illness,
celebrates the family and life's daily small joys, and meditates on what connects us to the world.






---
---
---